eBooks
Filmycks will be offering a continuing series of low priced, informative and interesting eBooks in the future. The publications will  relate to the content and style of the site and will include books on Poetic Realism, Film Noir and The Blacklist.
Please consider purchasing a book that appeals to you as a way of supporting the site and keeping the content free.
The first Filmycks release is The Beatles on Film, a comprehensive look at the under-appreciated film legacy of the Fab Four. 
******************************************************************************
MUSYCKS
We are also happy to offer links to our sister site, Inside Songwriting, where a series of music related eBooks is available under the banner of Musycks, a companion project aimed at exploring and examining the great pop music of the last 60 years. These books include insight and information for the professional musician and the novice alike, and for the committed music fan. The books are particularly aimed at people who value great songwriting and feature views and analysis of all the great songwriters from the classic to the modern era. Fab!
The first 4 titles are available here -
33 Great Songs, 33 Great Songwriters

33 Great Songs, 33 Great Songwriters, Vol 2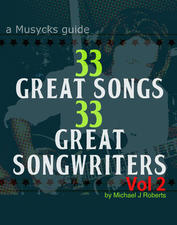 The Great Songwriters, Vol 1 - Lennon and McCartney, Bob Dylan
The Great Songwriters, Vol 2 - Paul Simon and Brian Wilson
Happy reading!